Manage your website
Your website can be compared with your office building and your business card: it radiates your company values without using words. A strong statement? Thuiswinkel.org publishes every year facts about online purchasing:
Online selling grew 25% compared to 2005. Volume of trade of online shops is substantially higher than retail business. Dutch retail business had a total volume of trade of 6.2% in the first half of 2006. Total online selling in the first half of 2006 grew from 2.8% to 3.3%. So... there is a good chance the majority of your potential customers visits your website before they contact you. And that's worth thinking about.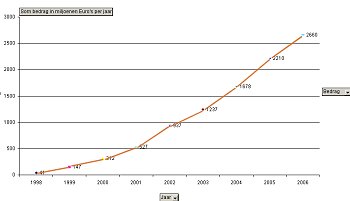 Online volume of trade 1998 to 2006 in millions of Euro's a year
Your website, your business card
MostVision Elements, the easy to use Content Management System, is your building block for a dynamic, flexible website. Ideal for today's demands and suitable for almost every budget. With MostVision Elements you can manage your website in an easy, flexible way. Changes can be made with a few clicks. Your customers will therefore see the most up-to-date information.
Up to date
Information changes daily. And people expect the same of you and your company. They expect you to be up-to-date.
Help, there's no time!
No time to write content or to maintain your site? No problem: we can help you update the site, check links, write content or manage photos. We have the resources to do so. So you can be assured your website is in good hands.
Quote from an entrepeneur (age 50):

"I bought a house last year. Being an entre-peneur, my time is limited. So before buying, I surfed the internet to prepare myself. Many websites passed me by, searching for a house.

If a website couldn't give me proper information, the Real estate Agency had lost me as their customer!"